Regular office hours are Monday through Thursday, 8:45am to 6:45pm.*
*Please be aware that office hours may change due to the impact of the pandemic. Go to the school website to check for changes to school office hours.
---
Prepare for the GED or HiSET high school equivalency exams.

Five subjects: Reading, Writing, Science, Social Studies, and Mathematics

Available in English or with Spanish support.

Graduates participate in our graduation ceremony.

Classes are

FREE!

Enroll any time.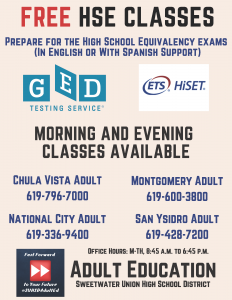 ---
LOCATED AT ALL SCHOOLS:
---
DAYS/TIMES:
Monday – Thursday/8:30am – 12:30am
OR
Monday – Thursday/5:30pm – 8:30pm
---
Click or touch the "

START HERE

" link below to start your adult education journey.
---
TESTING FEES 
GED:
California charges $35 per GED test.

Retest 2nd and 3rd time – $15 per test

You will need to register at www.GED.com to schedule a GED test.
HiSET:

 (HiSET offers the tests on paper and computer.)
$20 state fee

$26.75 per test if taken on computer

$31 per test if taken on paper

Retest 2nd and 3rd time – $14 per test

Register online at

https://hiset.ets.org/test_takers/

and choose Chula Vista Adult School Testing Center as your site.
---
FAQs – Frequently Asked Questions
What is HSE?
The HSE certificate is equivalent to a high school diploma for people never completed their high school education. The letters "HSE" stand for High School Equivalency. It used be call the GED, which is the name of one of three HSE assessments authorized by the state of California.
Why do I need a HSE certificate?
It is very hard to get a job without a high school diploma or a HSE certificate. People who have a HSE certificate or high school diploma earn more money than those who don't.
Will the HSE certificate help me get into college?
Most colleges accept HSE graduates just like high school graduates. If you have your HSE certificate, you can apply for federal financial aid to pay for college.
Is it hard to pass the HSE test?


It depends on how long you stayed in school, how well you can read and do math, your ability to think critically, and how much you study for the test.
What do I need to pass the HSE test?


To pass the HSE test, you need to be able to read and understand basic information, such as a newspaper or  job application. You also have to be able to add, subtract, multiply, and divide without using a calculator.
Do I need to know everything I learned in high school?


No. The HSE tests how well you think about different issues based on your life experiences. So, even if you have been out of school for a long time, you can pass this test IF you study for it.
Can I take the HSE tests in Spanish?


Yes, you can take the test in Spanish if that language is more comfortable for you. Several HSE preparation classes at our school have Spanish support and use Spanish preparation materials.
What subjects are on the HSE test?
The five subjects are writing, math, social studies, science, and reading. You can take the tests one at a time and once you have passed all five tests and met the average required, you will receive your HSE certificate.
What are the HSE preparation classes like?
Your HSE teacher will give you pre-tests and advise you when you are ready to sign-up to take the official tests. You can work at your own pace to prepare for the tests. The teacher will provide a plan for you with what you will need to pass the five tests and will be there to assist you as you go along.
Are the HSE preparation classes free?
Yes, the preparation classes are FREE!
Is there a fee for the official HSE test?
Yes, the fee includes all four/five subject tests and the certificate, but you don't pay until you are ready to take tests. If you prefer, you can pay for one test at a time. Look above the FAQs for the fees or visit the Chula Vista Adult School Testing Center for the current fee schedule at https://cva.sweetwaterschools.org/testing-fees/
Can I participate in a graduation ceremony if I get my HSE certificate with the adult schools?
Yes, the HSE and High School Diploma graduates from all four Sweetwater adult schools have a combined graduation each year. Graduates wear caps and gowns and can invite as many people as they like to attend. Scholarships are available to those who are going to continue their education. You can also participate in the school's Awards Ceremony preceding graduation each year.