Regular office hours are Monday through Thursday, 8:45am to 6:45pm.*
*Please be aware that office hours may change due to the impact of the pandemic. Go to the school website to check for changes to school office hours.
---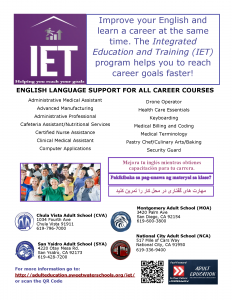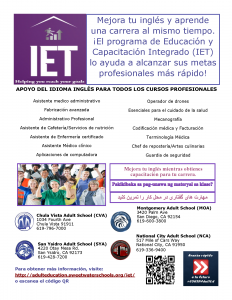 ---
Students enrolled in the Integrated Education and Training (IET) program will receive English language and literacy support as well as workforce preparation for all career technical education courses at all Sweetwater Adult Education.
Integrated Education and Training (IET) is an educational model that combines occupational skills training with adult education services to increase the educational and career advancement of participants. – U.S. Department of Education Office of Vocational and Adult Education
---
Directory of CTE courses with IET SUPPORT:
*(cc) = College Credit: Most CTE courses are articulated with Southwestern Community College. This means you will earn college credits and get a jump start on a college degree. All articulated courses are noted with (cc) in the title.